The Science of Line-Ups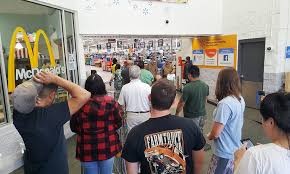 Waiting in line is the single biggest source of consumer frustration, says New York retailing expert Paco Underhill. North Americans have a clock in their heads set to three minutes Beyond that point frustration increases dramatically, said Underhill, who has researched shopping behavior for more than 25 years. Big companies study waiting times, but most — Loblaws, Air Canada, McDonalds — won't discuss their research. Tim Hortons vice-president Nick Javor takes queueing seriously, however, and was also willing to discuss it. Every element of service in the coffee chain is scrutinized to move people in and out more quickly. Few things discourage repeat business as much as lengthy food service wait times.
Over the years, the company has questioned whether one line feeding several cashiers is better than a separate line in front of each. Javor said it isn't. But when customers reach the cashier, the transaction should go quickly. "Twenty to 25 seconds is the target to serve that coffee and a single item, a doughnut or a tea biscuit," he said.
Companies study how to get lineups moving, knowing that they're a major cause of consumer stress. Guests are not robots; lineups should always be short & fast moving. But it's not just about speed. Sometimes, lineups are inevitable. Keeping the queue calm was studied at Disneyland and addressed by letting people know how long they could expect to wait.
Entertain guests during a wait.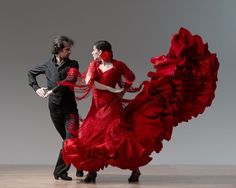 Rather than have guests fret during food service wait times, entertain them. Use the dance floor in the centre of the hall to stage a mini show. Music is good; a visual display such as dancing or magic is even better. If the budget will permit send hors d'oeuvres to those tables that will have the longest wait before being served. Based on calculations below, you will know in advance which tables these will be.
Stagger guest arrival at food service. For a large informal event, such as a company picnic or an all-building tenant appreciation lunch, staging guest arrival at the food service areas so that not all guests arrive at the same time is always useful. Guests can be brought from different play areas or floors of the building in fifteen minute intervals. Food service wait times are reduced dramatically.
The Arithmetic of Food Service Wait Times.
Number Crunching. Wait Times have their psychological aspects, but there's also a math element. Crunching the numbers helps an event planner or caterer determine how to ensure that all guests at an event will be fed within twenty minutes. Twenty minutes is the time limit normally guaranteed to corporate clients for food service times. These clients typically have narrow time limits within which to feed large guest numbers at, for example, a trade show, a seminar lunch or a presentation dinner. In such cases the incentive is strong to examine the variables that can shorten food service wait times.
Buffet Service. Variables that affect your buffet service time calculations:
Time for each guest to pass through a hot food buffet line.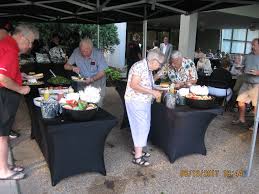 Location of buffet lines to guest seating areas and to each other.
Age and infirmity of guests. Before weddings, family reunions or retirement dinners the client should advise if elderly or infirm guests will attend. If so, servers should be assigned to help these guests navigate the buffet or serve them at their dining tables.
Number of hot food items. More hot foods on the buffet means more time necessary for anyone to make selections.
Simplify the selection process with a menu board for guests to read before the start of the buffet.
Use these boards to indicate the presence or absence of foods with health or religious implications: peanuts, carbohydrates, bacon. Other large signs can be used to direct guests to specialty items such as dishes for vegetarians.
Place clearly visible labels near each food item on the buffet. Tall table card holders are effective for this.
Group starches with starches and proteins with proteins.
Place menu cards on each guest dining table. This allows guests time to think about their meal choices.
If possible, lengthen the buffet lines to have two chafing dishes next to each other with the same food items that are expected to empty quickly. Then, as one of these chafing dishes is emptied the server can simply move the lid from the full to the empty dish and continue serving without interruption. The refill crew can then replace the empty hotel pan.
Serve food items that are especially bulky, such as corn on the cob, from specially designed serving pans separate from the rest of the hot food.
Positioning of salads, breads, condiments.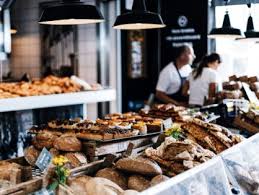 Never place salads, condiments, napkins or breads on the hot food buffet table. Guests who might quickly choose between chicken and salmon will dawdle over salads, dressings, breads, relishes & pickles. To avoid stalling the entire buffet process:
Move all salads, breads, condiments, spices, napkins, etc. at least 12 feet away from the hot food tables. This draws guests away from hot food and keeps the hot line moving.
Use only round tables in the salad area so that guests can access their choices from 360 degrees.
The size of these round tables will depend on the number of guests at the event. Larger guest numbers call for larger tables, (72"), so that multiple replacements of each item are already on the table, covered with plastic and linen, ready to be uncovered.
Salads, condiments, beverages and desserts are each served from their own tables, separated by enough space to permit crowds to flow freely between them. It's faster to serve salads from 5 bowls for 50 rather than 1 salad bowl for 250.
Salads and condiments require constant attention during a rush to keep their areas replenished & tidy.
Place two tongs in each salad bowl.
At a large company picnic serve ketchup, mustard & relish from dozens of squeeze bottles.
In a large rectangular hall or tent spread out the buffet areas so that guests seated at one end of the hall need not walk the entire length of the hall to be served. 500 guests will need at least 4 buffet serving areas.
Place one complete buffet in each corner of the hall and label each with a large sign. The menu card on each guest table will indicate which corner buffet the guests at that table will visit.
Leave enough space for the hot food line, the salad and condiment tables and guest ingress and egress.
Leave enough space for an easy flow of guests carrying food. If in doubt, do a trial service table rehearsal to see what works.
Draw a diagram of what works and share it with the set-up crew.
Chafing dish refills.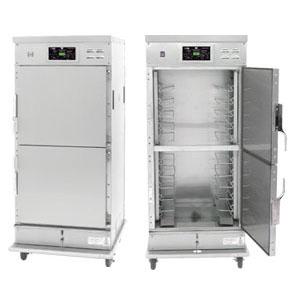 As hotel pans holding hot food are emptied they will be replaced during buffet service.
Keep full replacement pans hot in specifically designed warming cabinets made by manufacturers such as Alto Shaam or Cambro.
Position the cabinets no more than a few steps from the buffet. Assign a runner with oven mitts to bring hot pans to the lines as necessary.
Label each door of the cabinet with the food behind that door.
Attach labels to the end of each hotel pan in the cabinet so that the labels are seen as soon as the cabinet door is opened.
Buffet servers vs. self-serve.
To provide more attentive service and greater portion control servers standing on one side of the buffet are required. If the labour budget will permit place one server behind each chafing dish. Experienced servers can quickly serve food from two adjacent pans to each guest.
Experienced servers can diplomatically explain to guests the contracted for portion size and the policy regarding seconds or plate refills. At a company picnic where paper plates are used, the line is speeded if a server hands each guest a paper plate. This dramatically reduces time spent fumbling, especially for paper plates.
At a company picnic food choices are speeded by showing rather than telling. For example, if a guest must choose between a hot dog and a burger, the buns for both are held a few inches apart and the guest can simply point to the preferred item. The empty bun is then placed on the guest's plate and the next server simply fills the bun.
Where guests' food choices are limited an effective alternative is to speed guests along both sides of a buffet line without service.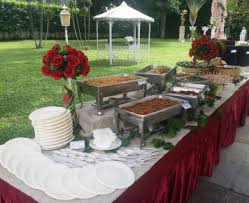 Supervision.
A guest can typically move along a hot food line in approximately one minute. If a second guest starts down the buffet 10 seconds after the first, the second guest should leave the buffet 10 seconds after the first guest.
A supervisor who stands between the hot buffet and the salads should watch guests as they leave the line to make sure that the 10 second interval is maintained. If a guest is chatty and dawdles on the line, a smile and a friendly hand gesture can invite them along. If a server is chatty and holds up service by even a few seconds a smile and a raised eyebrow can remind the server to speak only when spoken to.
The supervisor will note which hotel pans in chafing dishes are running low and will need to be replaced after the next 5-10 guests have passed. Use a cel phone or radio to coordinate with the head chef the delivery of more food to the buffet. Don't wait for any chafing dish to become empty. An empty pan can stop the line for minutes. Replace buffet hotel pans when almost but not completely empty. (See Chafing Dish Refills above)
In addition to the buffet line supervisor, service at a large event requires at least one floor supervisor. This person is critical and their duty should be discharged with the knowledge and cooperation of the client. Before the contract is signed explain to your client that your floor supervisor is responsible for maintaining a smooth flow of guests to the buffet lines.
At a wedding or other family event the floor supervisor(s) should be introduced by announcement by the M.C. The M.C. will explain the supervisor's role in bringing guests to the buffet, table by table. At a corporate event the client can delegate the introduction task to the floor supervisor.
The supervisor will invite guests to the buffet area table by table. He/she will approach and stand beside each table, in turn, and simply say, "May I invite this table to the buffet?"
Head table guests and tables where other V.I.P.s are seated are invited to the buffets first.
Sequence. Once notables have been attended to the supervisor will start inviting to the buffet those guests who are seated furthest from it. This ensures that no guest who is eating will be jostled by anyone approaching the buffet.
Timing. As the first guest from any table starts down the buffet the floor supervisor will approach and invite the next table to the buffet. Based on a 10 second interval between each guest starting down the buffet, a table of eight guests will need just under three minutes for all eight to be engaged there. Those three minutes are just enough for the next table of guests to stop chatting, stand and make their way to the buffet. The next guests will arrive at the buffet just as the last guest of the preceding table starts down the buffet. This process ensures that no guest has a wait of more than three minutes standing at the start of the buffet and the buffet staff will always have guests to serve. Smooth and simple.
The floor supervisor will approach the next table to be invited to the buffet with his/her back to the guests already eating and facing the buffet. The guests at that next table and the supervisor may engage in friendly banter about their turn to be called. That is positive. But the supervisor must remain focused on the guest flow at the buffet.
The ratio of buffet serving lines to guest numbers.
Presume that a guest will require 60-70 seconds to pass along a hot food line of 2-4 proteins and 2-4 starches. A table of 8 guests will require 75 seconds for the first guest plus 10 seconds for each guest thereafter. (70 + (7×10) = 140 seconds or 2.3 minutes to be served. 500 guests will be seated at (500 guests/8 guests per table) = 63 tables. 63 tables will require 145 minutes, (63 x 2.3 minutes) of total buffet service time. To have all guests served in 20 minutes, (145 minutes/20 minutes target) = 7 buffet lines. If the client will permit 25 minutes of service time, the number of buffet areas can be reduced to 6.
(This article includes information found on CBC.ca, March 9, 2007)