We have already reviewed a bride's emotional needs that a venue must meet to earn her business. Our last post described the outdoor features your venue can buy or build to address these needs. All of them are beautifully attractive during daylight hours but barely visible after dark. To build the excitement that transforms your venue into a fairyland where a bride simply must have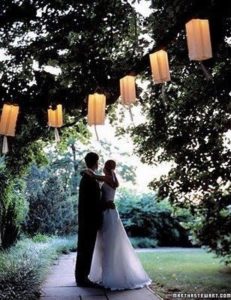 her wedding use darkness to create wonder and awe. Give wedding guests such a spellbinding night of fascination at your venue that they will fill social media with rave reviews. Bewitch them until the very last moment they leave your property. To build the hyperbole to promote your wedding venue business you must sell wedding magic.
Wonder and Awe Outdoors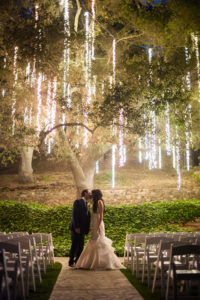 There are pluses and minuses to sell wedding magic outdoors.
Minuses:
Electrical wiring & lighting is exposed to the weather. Qualified suppliers must look after all installations. No DIY.

Some lighting may need to be taken indoors after each event or after the season.

Some special effects such as smoke, mist, fog or open flames are weather dependant.

Some special effects such as sky lanterns, (candles in airborne lanterns) require staff at the event

Sky lanterns must be carefully monitored

dedicated to them. During extended dry spells, the use of fire-based effects may be prohibited the local fire department. Some counties may require a burn permit for any outdoor flame or fireworks.

Some effects, such as an artificial moon used in the film industry, are available only from specialized suppliers.
Pluses
Outdoor special effects offer a scope and scale for impressing venue guests that is simply unavailable indoors. Compared to a hall or tent of even 6000 square feet, outdoor effects can be seen over an area that covers acres. Your guests can be overwhelmed by the height, breadth, beauty and size of your presentation.

Incomparable outdoor wonder.

For guests who have already been to many weddings one more wedding risks being simply more of the same. By contrast, outdoor special effects can make a wedding at your venue seem incomparable. The mystique and glamour of your venue will compel guests to review your place with passion.

Outdoor special effects are limited only by your imagination. Innovative, imaginative and exciting, outdoor special effects offer one of the few ways to distinguish your venue from all others. Your venue can be literally one of a kind.

As guests exit your property this will be their last magical impression.

Some effects can be held in reserve until guests are leaving your property. Candles which light your driveway and exit gates leave guests with an indelible last impression of your venue.
Light Heights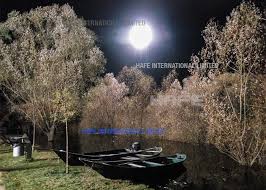 Some effects, especially lighting, will be set at one height or another, depending on the desired effect. Intimacy can be created with small lights set at ground level, table top or just overhead. Mystery will flow from artificial fog at ground or chest level. Spectacle can be created by lighting the heavens. The effect you wish will determine where your tools are placed.
The portion of the wedding for which magic is to be applied will also determine it's height and scope. Lighting effects for a wedding ceremony will differ from those used during and even after dinner. Lighting for photographs
will differ from these. The common thread is magic.
Wonder and Awe Indoors
A wave of the wand indoors may be smaller scale but still magical.  Lighting is critical.  Determine the electrical capacity of your venue to establish feasibility of any special effect concept. Consult with an electrician, an interior decorator, a wedding planner, a fire inspector and a landscaper. All will have relevant input. If live flame will be employed in a rented tent it's a good idea keep the tent rental company and your insurance broker informed.