Your wedding will remain one of the signature moments in your life. It ranks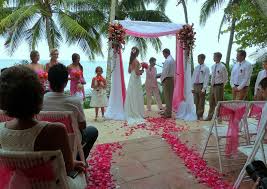 with your confirmation, graduation from college, the birth of your child and the death of a parent. It is a joyous milestone that marks your passage through life. As such, it's significance cannot be overstated. The wedding ceremony itself is a formality hallowed by millennia of tradition with consequences both civil and religious. It's a very big deal. Getting it right and getting it right for you is worth all the time and trouble it takes. This article is designed to help you choose a wedding ceremony venue.
Start with simple questions: what is the wedding of your dreams and why is it so? The answers are entirely personal. You don't have to justify them to anyone. Have you always dreamed of a church wedding? Do you want a get-away wedding at a romantic tropical resort? Is your dream ceremony in an art gallery surrounded by paintings and sculpture? Outdoors in a garden of spring flowers? In the woods? Have you always loved horses and want to be married on a horse farm? Would a ceremony at a cottage that has been in the family for generations bring the whole family together? The only thing that matters is that your choice is meaningful to you.
This article presumes that your ceremony and reception will not be in the same place. Some points to consider when you choose a wedding ceremony venue:
Wedding Ceremony Checklist:
Privacy
Will other weddings take place at the same venue on the same day? At the same time?
There are pros and cons to sharing your wedding venue. Some venues have two or more wedding ceremony spots on their property. More than one ceremony may take place there on the same day. On the upside, you should get a more reasonable price if the location is being shared. Most places that have multiple ceremonies should also be well organized. On the downside, you may be able to see or hear another wedding party if the ceremony spots are too close together. There may be a shortage of parking if the organizers allow too many guests at once. Driveways may be narrow and departing guests from an earlier wedding may be bottlenecked by arriving guests from a later wedding. Find out how multiple ceremonies will be coordinated by the venue director. Make sure there will be enough space that the ceremonies don't overlap.
Signs

Once at the venue how will your guests find your ceremony area? Signs? Attendants?
Ask to see the signs that will be used to direct guests to the parking and ceremony areas. If you don't like the signs, or there aren't enough, you can always make your own. Rustic barn board or blackboard paint make a striking background for an outdoor rustic wedding. For a more formal look, you can print elegant scripts from your computer, and customize your signs with the bride and groom's names. If there is a large distance between the parking lot and the ceremony site, there should be at least one parking attendant to direct guests once they have parked. Check your venue contract to see if attendants or parking valets are supplied.
Rain
Are there covered facilities available on site in the event of rain? If you plan an outdoor ceremony, you must also prepare for rain. Choose a venue that has a pavilion, a tent or a building large enough to comfortably accommodate all invited guests. There may be an extra charge to move chairs indoors from the outdoor setup. Some venues may ask you to decide upon an outdoor or indoor ceremony several days before the event. It can be a tough choice if the weather forecast is less than definite. You want the wedding of your dreams. But, you don't want your guests to be soaked.
If it rains for several days before the ceremony the ceremony area may be too soft to walk or drive on. The venue itself may insist on moving the ceremony simply to protect a fragile part of their grounds.
Does the Venue Provide Staff?
Some ceremony locations will provide staff for a variety of functions. You may will need:
Ushers
Parking attendants
Someone to set up flowers at the ceremony
Someone to move flowers from the ceremony to the reception
Someone to safeguard gifts
A guest book attendant
Someone to set up a certificate signing table, linen & chairs
Your contract should specify how many staff are provided, how much you are being charged & for what period of time.
Parking
Venue planners will know how many parking spaces they have available. Since you know your guest numbers, you can tell if there will be enough parking for your event. The rule of thumb is one car for every 2.2 guests. It is always better if the distance from the parking lot to the ceremony is short. Formally dressed guests will hate a long walk on a hot day. Don't forget to set the arrival time on your invitation to allow enough time if guests have to walk more than a few minutes from their cars.
Mobility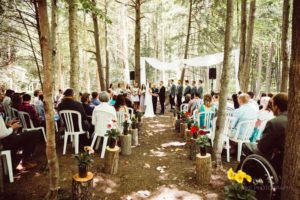 Is the distance from the parking area to the ceremony an easy walk for everyone? Is the ceremony area wheel chair accessible? Does the venue provide a golf cart for those who need one? If so, at what extra cost? Some locations provide transportation for guests in wheelchairs,  the elderly or other guests unable to walk very far. A golf cart or shuttle is an easy solution for these special needs and should be included in the rental agreement.
Seating
Ceremony venues may have a choice of chairs available for guest seating. If not, you can contact a chair rental company to upgrade or change the look to something you prefer. For outdoor venues, you may rent many types of attractive folding or stacking chairs; plastic or wood. Chair covers can also be rented to add a touch of colour or a more elegant style. In that event, determine who will apply & later remove the chair covers?
Determine when rented chairs need to arrive at the venue to be set up on time for the ceremony. Will venue staff look after this? If so, include this in your venue rental agreement. If not, will the rental company look after this?
Prep Room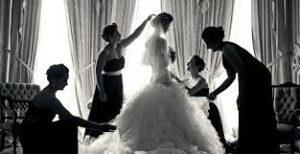 A bride will want to have a place available before the ceremony to change or, at the very least, to check her hair and makeup. She will probably need an hour at least to make the final touches to her outfit and to feel she is ready for the big moment.  The venue rental agreement should include an arrival & departure time for the preparation area. The preparation room should be equipped with a washroom, a full-length mirror a make-up table and seating for at least four. Parking for at least 2 cars should be adjacent to the preparation room.
If the venue cannot offer a dedicated prep room consider renting an RV and parking it discreetly at the venue. If all else fails it maybe better to rent a suite at nearby hotel for prep for the entire wedding party. A limo can transport the bride and bridesmaids from the hotel directly to the ceremony area.
Bride's Entrance to the Ceremony Area
Visualize the distance from the prep room to the ceremony area. If you are planning a grand entrance will the walk to the ceremony area help create that effect? Will you need help getting to the ceremony if you are wearing a long train? Will you need a limousine or a golf cart? Do you want a horse and carriage ride? Will your photographer be able to take pictures as you enter the ceremony area?
Secured Area for Gifts
If your wedding takes place at a hall or hotel, ask for a special locked room where wedding gifts and cash can be secured until you leave. If your wedding is at an outdoor location, designate the trunk of a relative's car as a secure place for gifts. Do not leave wedding gifts unsecured.
Hours Permitted at the Wedding Ceremony Venue
Wedding ceremony venues typically have strictly defined hours of use. Your florist, decorator, d.j., limo and other suppliers should not be booked for earlier or later than the venue permits. Shuttle services for guests to get to parking or to hotels should be organized so that the last pickup is at least 20 minutes before your time at the venue ends. Some venues charge a fee if your or your suppliers or guests are at the venue for more time than you have paid for.
Wedding Day Schedule
If the ceremony is early in the day, how will guests be entertained/occupied until the reception? Historically, wedding days were split into two separate time periods – a church ceremony early in the day and a reception in the evening. Often this was dictated by the availability of the church. More modern, civil weddings tend towards holding the ceremony and the reception in the same location. However, if the ceremony and reception venues & times will be split the timing of each is important. If the interval between the two functions is more than an hour guests must somehow entertain themselves.
On a hot day, with children in tow, at some distance from home, guests who have nothing to do, nothing to drink, nowhere to go will be unhappy. Does the ceremony venue have a park or a pavilion where guests can rest a while after the ceremony?
Ceremony Rehearsal
Does your ceremony venue rental agreement provide time for a rehearsal some days before the wedding? If your wedding ceremony is taking place on a Saturday, you will probably be having a rehearsal on the Thursday or Friday before. Most venues will allow access for two hours one or two days before the ceremony to rehearse. Be sure to coordinate this asap with your minister.
Rehearsal Dinner
Does your wedding ceremony venue have the space and availability for a rehearsal dinner? You will need tables and chairs as well as a caterer and servers. Does the ceremony venue permit outside food to be brought in? Who will be responsible for cleanup?
Is Your Own Decoration Permitted?
You will probably be allowed to decorate your ceremony site to match your wedding theme. Some restrictions may apply and you should  ask whether you can use tape, nails or fishing line to attach your decorations to existing fixtures. You will almost certainly be expected to remove decorations immediately after the end of the ceremony.
Determine when the decorations may be installed and what tools you will need to install them. Ladders, hammers, tacks, scissors, ribbons, chandeliers, drapes should all be listed. Who will brings these to the ceremony venue? Who will remove them after the ceremony? A bride should not be burdened with decoration duties on her wedding day. Can decorating be done the day before the wedding? If the job cannot reliably be delegated to friends or family it's  best to hire a decorator who knows the venue.
Photographs
Does the wedding ceremony venue charge extra fees for photos? Does the venue have a separate space for photographs of the wedding party? May your photographer visit the venue well before the wedding day to see where the best pictures may be taken?
Some venues may want copies of your wedding photos for their website and for other marketing purposes. Make sure your photographer will agree to this. Some photographers claim copyright in your wedding pictures.
Hors D'oeuvres
Can provide the venue provide pre or post-ceremony snacks, hors d'oeuvres. If not, your reception caterer should be able to arrange for delivery of these to your location.
Champagne Toast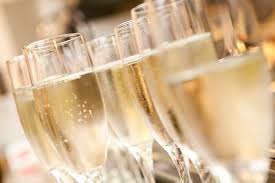 Some venues may restrict the service of alcohol or may require a Special Occasion Permit. Your rental agreement should clearly specify how alcohol is to be handled.
Will Non-Alcoholic Drinks Be Available To Guests in Hot Weather?
Some locations don't have service, even of non alcoholic beverages available on site. You can ask your caterer to supply cold drinks, glasses, ice, a bartender, table & linen for service as guests arrive or for after the ceremony. Permission of the venue may be required.
Clean Up
It might be necessary to provide a cleanup fee or security deposit to ensure that the site is tidy when you leave. Determine where garbage cans will be placed so that guests can dispose of food and beverage containers, if necessary. Your guests should be cautioned against littering, especially cigarette butts. Does the venue provide ashtrays?
Your florist should also be cautioned to remove all packaging from the ceremony venue that was brought there with your flowers. The wedding ceremony venue should be left as spotless as you found it.
Music, Electrical, Sound System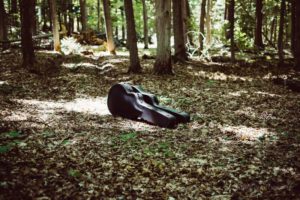 You may need a sound system for the ceremony, especially for an outdoor wedding. The same system can be used for pre-ceremony and post-ceremony music. Check out the availability of electricity to power the system. Alternatively, at modest cost, a battery powered system can be rented. If you plan to hire musicians to perform at the ceremony it's prudent to confirm their electrical needs, if any, well in advance.
Horse and Carriage
Country wedding sites are likely to have a horse and carriage available. You may wish to stand near a horse for photographs to add to the rustic country look. A horse may need to be sedated to stand quietly for photographs. Determine if anyone in the wedding party is allergic to or afraid of horses.
Washrooms
Confirm the availability and adequacy of washrooms at the ceremony venue. Inspect them before you sign the rental contract. Count the number of stalls in the ladies facilities. 4 is a minimum for a group of 150 or more guests. Confirm the washroom is wheelchair accessible, especially if a washroom trailer is employed.
Officiant
It is likely that you will have to hire the person who officiates at your wedding. These arrangements must be made as soon as the ceremony venue is booked. Wedding officiants who travel to venues away from a church or chapel are called itinerant officiants. They are in short supply on any Saturday during the summer. Can the venue provide or recommend an officiant?
Outside Suppliers
Does the venue insist on its own suppliers for florist, photographer, officiant, rental supplier, caterer, bartenders, etc.? Most ceremony venues will have a list of preferred suppliers. This means you have to work with one of the suppliers on venue's the list if you want to use that location. On the positive side, the suppliers should generally be reliable. On the negative side, there may be only one supplier in a certain category on the list and you will not be able to bring your own to the site. This may be problematic with florists or rental companies. Inquire into all of these arrangements before signing your venue rental agreement.
Directions
Does the venue have a web site with a map to it's location? Does GPS correctly  locate the venue? Calculate and share with your guests the driving time to the ceremony from certain points, (e.g. the intersection of Highways 400 and 401. Guests hate to be late for a ceremony so encourage them to allow adequate travel time.
Check out the venue website to confirm that there are clear directions that you can use on your invitations. A quick check with your own GPS will confirm that guests can use it if they get lost. If the website doesn't provide the drive time from different departure points, you can check that yourself on Google Maps or MapQuest.
If guests get lost on their way to the ceremony, will the venue's telephone be answered to help guide these lost guests? This Is especially important for a suburban or rural  venue where county roads and intersections are not well marked.
Are guests given clear directions (with drive times) from the ceremony venue to the reception venue? After the ceremony, before guests start to leave, make sure everyone has clear directions to the reception venue. This job can be delegated to the M.C.