There is an old proverb "into every life a little rain must fall".  This certainly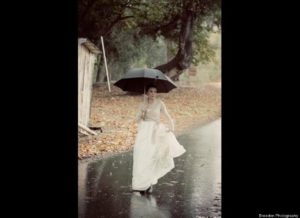 applies to outdoor weddings.  It doesn't matter how beautiful the plan for an outdoor wedding may be if it's based only on the hope for a warm sunny day. Rainy day weddings are a possibility. They must be planned for. The good news is that rainy day weddings can still be beautiful.
The Venue
Any farm or other country wedding venue can be affected both by falling rain and water that is running off from higher ground.  Heavy runoff is almost impossible to deal with if it floods the spot where the wedding ceremony or reception will take place.  Start by determining what part of the property may flood and what part will remain dry during and after a heavy rain. The owner of the property must know this critical detail. Ask the venue owner about rainy day weddings. Does the venue have a back-up plan if your preferred spot on their property is vulnerable to flooding?
A grass location need not  be underwater to be useless. It merely needs to be soft enough so that foot traffic turns grass into mud. Long dresses will stained, shoes will be ruined. Guests will slip and fall. Injuries are possible. Hurt pride is certain.
We recently did a wedding where the bride was determined to have the reception on a particular part of her chosen venue. She was cautioned that her chosen spot was the lowest part of the property and would flood in the event of the rain that was already forecast. She wouldn't listen. Her vision of the wedding was all that mattered. Unfortunately, it rained all night before the wedding with disastrous results.
Walkways

If water starts to make the grass soft or muddy there is a good chance of slipping and falling. This is a safety issue. Be prepared to lay down flakes of hay or shavings before guests start walking in high traffic areas. Identify entrances to tents, washrooms, the bar, the buffet and other high traffic walkways as areas to pay attention to early. Avoid the temptation to lay down wood for guests to walk on. Unless a wooden walkway is firm, flat and has a handrail it may become even more slippery than wet grass.
A well-equipped rental or special event company can supply rubber or plastic runners. These interlock to give a continuous non-slip surface wherever needed. The same company can also supply tent sections to cover walkways. These are beautiful as well as practical.
Driveways.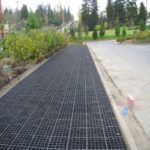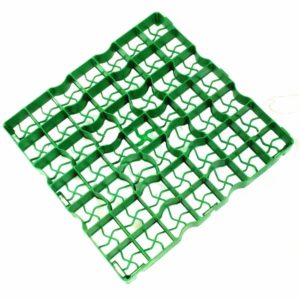 On a farm wedding venue most driveways are grass or dirt. A few are gravel and almost none are paved.  There is a traffic jam waiting to happen. Gateways that force every car to drive over the same ground are especially vulnerable. It only takes one car to become stuck in a gate to block all other cars from leaving the parking area. Drivers from the city, in small cars with faint tire tread, will face slick mud for the first time. Their instinctive reaction will be to approach the mud slowly and then spin their wheels once they get stuck.  As they sink deeper in the mud the driveway will become impassable for anyone else.
Lay down plywood, gravel or plastic strips on any driveway where all cars must pass to the parking area. Have a tractor and tow chains on stand-by. (Be prepared to get muddy attaching the chains). Better yet, have a Plan B for parking all guest cars off the property at a near-by school, church or neighbour with firm driveways & parking. You will need 2 (rented) minivans & drivers for a shuttle. .
Food and Bar Service Tables
Be prepared for heavily loaded buffet tables to start sinking in wet grass. Put pieces of plywood, at least 6" x 6", under each table leg. All electrical cords need to be off the ground. The normal practice of covering cords for guests to walk over them won't be safe on wet ground.
Guest Comfort.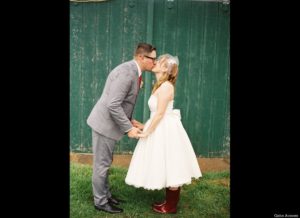 It is so much easier to keep your guests comfortable if their feet are warm and dry. The bridal party should have "Wellies" on stand by. Guests, especially women, need to be cautioned to wear sensible shoes or boots, appropriate for wet grass or mud. As the bride and her maids arrive at the venue they should be met by ushers carrying large umbrellas. The umbrellas should be uniform in size and colour to contribute to the photos. There should be plenty of extra golf size umbrellas on hand. Place a small coat rack inside the tent for these umbrellas to hang. Use "S" hooks for those umbrellas without a "U" shaped handle. Have a supply of dry towels for guests to dry wet hands, etc. New shop wipes work well. Tent heaters, even in summer, to dry out the tent.
Morale.
It's easy to regret bad weather and allow the bride or other guests to become despondent. Resist that slide into depression. So much depends on the bride and her guests enjoying their day. Smile at everyone. Play upbeat music. Sing "Rain, rain, go away, come again another day."