Food and Beverage at your Daytime Wedding
Morning and afternoon weddings are now in vogue for a number of reasons. You might want to try this different and interesting type of wedding for your special day. The following outline of food and beverage items will help you plan a perfect daytime wedding. Make a splash with something really unique for your wedding day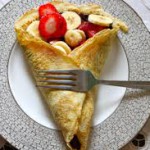 by having a breakfast or brunch wedding. Both breakfast and brunch provide a one of a kind opportunity for a menu that will delight your guests. Instead of the traditional chicken or roast beef, you have an endless variety of choices.
Morning Wedding Menus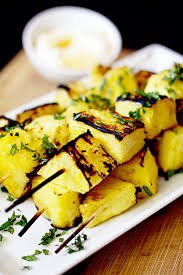 For an informal touch, try croissants, muffins, Danish and scones with a selection of jams and preserves. If your breakfast is a sit-down event, you could add yoghurt, fresh fruit salad and a bread basket with foccacia and sliced breads and rolls. Along with coffee and freshly-squeezed juices, your guests will enjoy a light and casual breakfast. For added flair, serve some specialty drinks, such as virgin Caesars or virgin margaritas.
A more formal menu would probably involve a sit-down meal. You have the opportunity to serve any type of hot breakfast dish, especially if you set up action stations, with chefs making guests' meals to order. If you set up a separate station for omelets, you can give your guests a wide selection of fillings to satisfy them.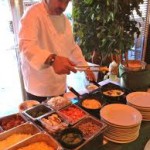 You could set up another station to make fried or scrambled eggs to order.  If you decide to serve the breakfast buffet style, you can still have scrambled eggs, which will keep fresh and hot on the serving line. Of course, sausage, bacon and home fries would round out a classic breakfast menu.
Wedding Brunch Menus
A wedding brunch gives you the chance to present your guests with some wonderful food. Eggs Benedict and crepes are two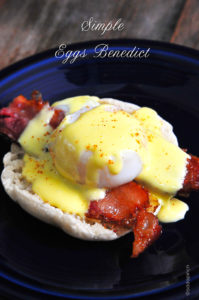 elegant menu items that guests will love. You can dress up the crepes with fruit, whipped cream, maple syrup and confectioner's sugar. Waffles are also ideal for brunch, served hot or cold and with or without ice cream. Pancakes can be your main course as well and are wonderful with blueberries or strawberries.   Sausage, bacon and roast potatoes will all complement your brunch along with fresh fruit and a selection of fresh rolls. This is the perfect time for fresh fruit drinks, made with carbonated soda or just served plain.
Beverages at your Daytime Wedding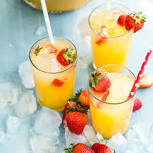 A daytime wedding is the ideal non-alcoholic event. Whatever your reasons are for not serving alcohol, it is much simpler to substitute fun non-alcoholic drinks during the day than it would be in the evening. There is a large selection of enjoyable fruit and soft drinks available that will be appropriate for a celebration, especially if you serve them in elegant and unusual glasses. Apple cider would be a great choice for a late summer or fall wedding, while fresh lemonade would be a hit on a hot day.
If you do decide to serve alcohol, you probably want to keep your beverages light and cool. You could try champagne with a variety of other mixes, for instance, champagne and orange juice,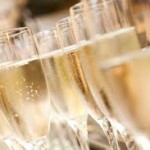 champagne and fresh strawberries or champagne with lemonade. A selection of light beers and cold white wines would round off your beverage list.
Coffee and tea will be appropriate at a daytime wedding and you have the chance to try some specialty coffees and teas. If you add whipped cream and a light liqueur to your coffee, or add flavored coffees, you are guaranteed to please your guests. Herbal teas and decaffeinated varieties will assure that all your guests' needs are covered.
It is easy to see that breakfast and brunch present an excellent prospect for treating your guests to a really wonderful and memorable meal. Instead of the boring dinner menus that so many people would expect, you can count on creating a memory that will far outlast an evening wedding. Take advantage of the occasion and make your wedding a day to remember.